Archery Hall of Fame honors Dwight Schuh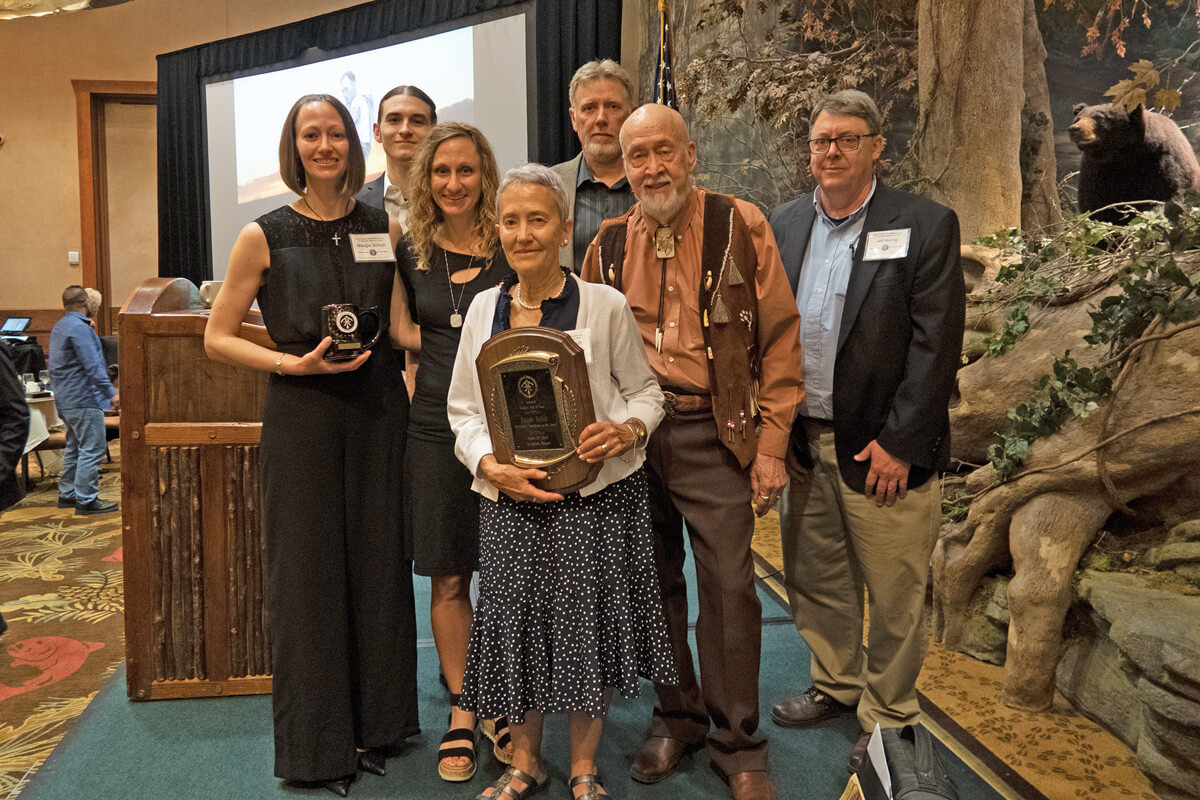 October 14, 2022
By Curt Wells
In May, something happened that probably flew under the radar of most bowhunters. Dwight Schuh, my predecessor as editor of bow hunter Magazine, was posthumously inducted into the Archery Hall of Fame.
Some of you might say it's about time. However, Dwight was inducted into the Bowhunter Hall of Fame in 1997. At that time, the two Halls of Fame were separate entities, with the Archery Hall of Fame being largely industry-focused and competitive archery. Since then, the two have become one – and the Archery Hall of Fame (AHOF) is now a destination, complete with a showcase museum at the Bass Pro Shops headquarters in Springfield, Missouri.
Editor Jeff Waring and I flew to Springfield to attend Dwight's induction, which was supposed to take place in 2019. Like most things, two years of AHOF inductions have been postponed due to the pandemic. As a result, the list of 2018 and 2019 inductees combined this round to include PES founder Pete Shepley; Bob Eastman, founder of Eastman Outdoors; sniper and showman Bob Markworth; Founders of Black Widow Archery, "The Wilson Boys"; SpinWing Vane inventor Richard Carella; and our friend Dwight Schuh.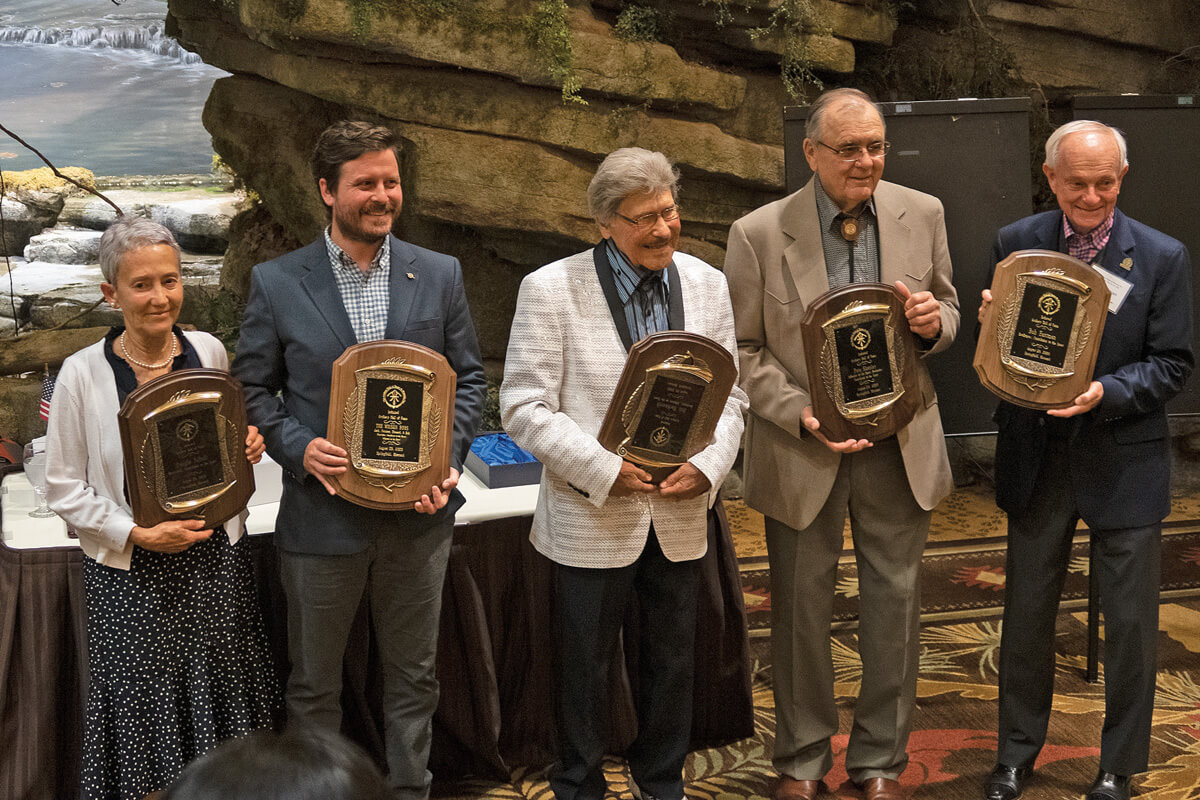 Fame isn't what it used to be. Now all you need to do is click on your computer to show yourself doing something memorable and BOOM! – you are instantly famous. A few decades ago, you gained notoriety by interacting with your peers on a more personal level. They have come to know you through years of personal appearances, correspondence, and reading your stories and articles written about you. It took time and effort to become "famous," if that makes sense. At the time, being known required a lot of work!
Dwight Schuh accomplished that, and in my mind, his notoriety was genuine among his fellow bowhunters. It's always unfortunate when someone receives their well-deserved recognition posthumously, but from the Bowhunter team's perspective, no one deserved the honor more than Dwight.
Our trip to Springfield also allowed us to see the Schuh family again. Dwight's wife Laura and daughters Emily and Margie, along with grandson Dieter Berriochoa and Dwight's close friends Ron and Tanja Smith, also made the trip from Nampa, Idaho. Naturally, we were also delighted to visit other members of the bow hunter Family like Dr. Dave Samuel (AHOF Class of 2007) and famous white tail performer Chuck Denault and of course it was fun to watch bow hunter The magazine's founder, MR James, unveils Dwight's plaque.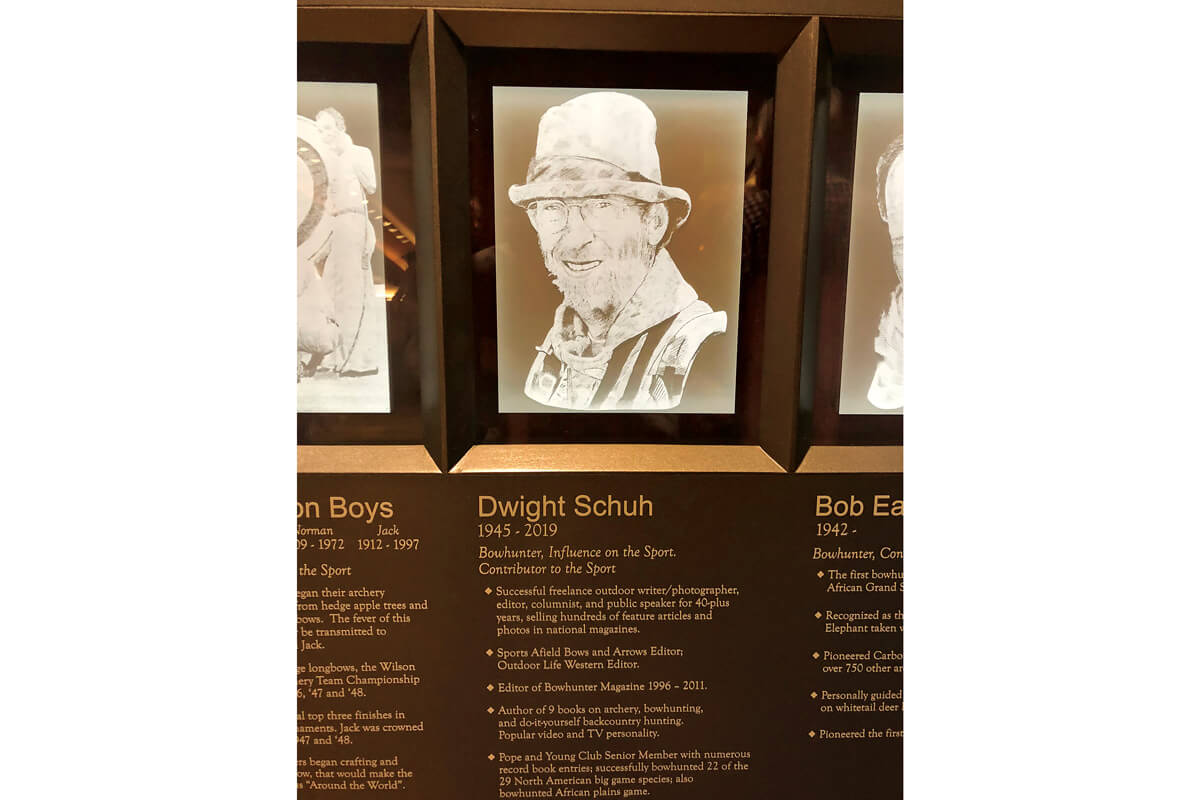 Dwight's contributions to bowhunting are etched for eternity on this beautiful museum plaque. Highlights include: over 40 years as a freelance outdoor writer/photographer, editor, columnist and speaker; "Bows and Arrows" Editor for Sports Afield; Western Outdoor Life Editor; and editor of bow hunter Magazine from 1996 to 2011. Dwight authored nine books on archery, bowhunting and do-it-yourself backcountry hunting, and was a senior member of the Pope and Young Club. Dwight has also successfully captured 22 of 29 North American big game species with a bow and arrow.
While those credentials were impeccable, those who knew Dwight personally knew him as a man who defined integrity and ethics. He was intense, committed and driven – all qualities that every bowhunter should strive for. To me, Dwight was a mentor, a colleague, a friend and someone I looked up to from the day I decided to commission my first bow in 1980. I never imagined that I would follow in his immense footsteps, which I know can never be fulfilled. . I still miss Dwight but in some ways he's still here with me.
Mr. James' presentation at the Saturday evening induction ceremony was one of honor and respect. He considers his hiring of Dwight Schuh as his successor to be the best decision he has ever made. And I have to wholeheartedly agree with this assessment.
Video that might interest you

×

---