Boatbuilders are launching new bespoke boats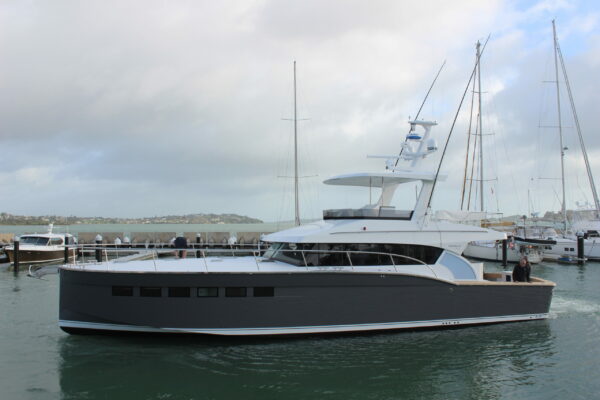 East Tamaki Lloyd Stevenson Boatbuilders has launched two bespoke boats: an 18m luxury motor yacht and a 24m luxury sailing yacht.
From the pen of Auckland-based designer Dennis Harjamaa of Artnautica Yacht Design, the 18m boat was built for a New Zealand client and launched at Half Moon Bay Marina.
The client's brief was to build a stable, efficient and fast planing monohull, suitable for offshore sport fishing as well as long distance crossing.
To do this, the boat was built in carbon fiber.
Carbon construction kept weight to a minimum, allowing the use of efficient Volvo Penta engines with IPS [Integrated Propulsion System] discs.
The power of these engines is significantly less than that which would be found on similarly sized 18m sport fishing boats, while producing a top speed of over 30 knots (55 km/h) and a cruise of approximately 26 knots (48 km/h). while maintaining "very good energy efficiency".
Matuku's owner was involved in its design and construction.
Project team leader Gareth Curd says the owner's involvement at every stage of the process was beneficial. "It totally played into our strengths as custom boat builders," Curd says.
"This means we were able to include many of the small design changes and personal touches that our client wanted as we went along."
The 24m luxury sailing yacht, nicknamed Wind Spirit, is a split-rig ketch with two stepped carbon masts, two helms and a hull that is an 'engineering masterpiece': taking advantage of both the traditional timber construction experience of Lloyd Stevenson Boatbuilders and their expertise in composite materials. ".
Constructed of six layers of cold molded yellow cedar, longitudinal and diagonal, with an outer skin of electronic glass and Kevlar, a one meter long sacrificial bow section allows it to remain watertight and easily repaired in unforeseen collision. occur.
Lloyd Stevenson says one of the overriding design criteria for Wind Spirit was that it be as self-supporting as possible. To this end, part of the electricity production will be supplied by solar panels and a pair of hydrogenerators.
These power generators use the movement of the boat through the water to charge a large bank of batteries, making a dedicated generator unnecessary.
The launch of Wind Spirit at Half Moon Bay Marina is expected to take place next week.