Bowfishing on the beaches of Alabama | Gulf Coasts and Orange Beach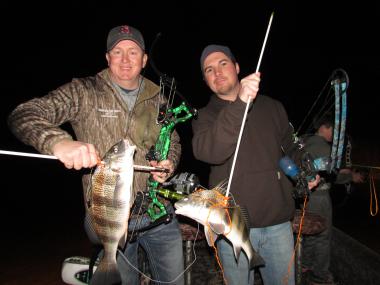 What is bow fishing?
Is it hunting? Is it fishing? Is it archery?
Yes, yes and yes ! Bow fishing is a method of fishing that uses specialized archery equipment that combines a hunting bow with a sturdy fishing reel. After stalking your prey in shallow water, you shoot it with a barbed-tipped arrow before hoisting it on your reel-mounted hunting bow. Combining the best elements of all three sports creates a fun and exciting alternative fishing option.
But equipment isn't the only unique feature of bow fishing. Because your target is just a few feet away, there's no need for goggles or angling experience – just a steady hand and a thoughtful aim. It's harder than it looks, because you have to take water refraction into account when lining up your shot. For this reason, experienced bow anglers will often advise you to "aim low!"
Despite the challenge, bow fishing is a great activity for all ages – even small children. Unlike traditional fishing, you don't have to be still or quiet, and most charter trips include music, cheers, and friendly competition. The kids will also love staying up late, as you'll have the best luck at night when the fish are most active. This gives it an even cooler vibe, as your flat bottom boat's bright LED lights will illuminate shy underwater creatures you can't see during the day.