Dillsboro Elementary places 5th in State Archery Tournament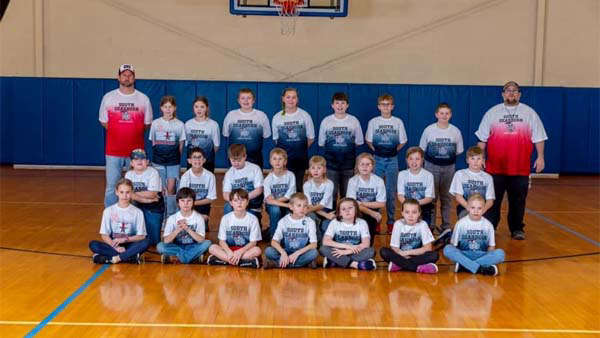 Several other area schools competed, including Batesville which won the college tournament.
INDIANAPOLIS — Archery teams from several local schools traveled to Indianapolis on Saturday to compete in the NASP state tournament.
The Indiana National School Archery Program State Tournament was held at the Indiana State Fairgrounds.
This was the 16th annual tournament featuring the NASP Bullseye and NASP/IBO 3D tournaments.
In the Elementary Schools Division Bullseye Tournament, Dillsboro placed fifth out of 28 schools. Kainen Wanstrath and Zeke Hanson placed 7th and 8th respectively among all primary school boys. Ruby Davidson was Dillsboro's top female competitor, placing 9th out of 272 competitors.
Batesville Middle School placed 11th in the elementary division. Owyn Yorn was the Bulldogs' leading scorer (255). He placed first in the 4th grade boys division and 27th out of 346 middle school boys. Kiersten Luers finished 17th in the Grade 5 girls division with 252 points.
Jac-Cen-Del finished 16th in the elementary division, followed by South Ripley in 22nd.
Katie Bunnell stood out for Jac-Cen-Del, placing 3rd out of 272 elementary school girls.
The middle school division bullseye tournament was won by Batesville. The Bulldogs finished 53 points clear of second place Castle North Middle School. Batesville also had a second team that finished 9th and a third team that finished 27th in the competition which featured 35 teams.
Lance Weiler placed first in the 7th grade boys division and 3rd among all middle school boys with a score of 287. Owen Denni and Kayden Weiler finished in the top 15 among all middle school boys. Macy Young was the highest ranked Batesville girl, placing 10th out of 334 archers.
South Ripley came in 22nd place. Their top scorers were Stanton Ross, Abe Speer and Jayda Hartig. South Dearborn placed 23rd behind strong efforts from Caleb Bishop, Dalton Land, Braden Huddleston and Lillian Kuhlman.
Milan finished 30th in college. The best Indian artists were Levi Brown, Samantah Johnson, Abigail Carpenter and Aryanna Cassini.
Batesville once again had a strong showing in the high school division, placing 2nd out of 35 teams. Blake Belter scored 286 points which was good for 4th place in the junior boys. Alexis Allison and Lydia Haskamp each scored 282 points, placing 5th in the sophomore and freshman splits. Erik Gunter, Ryan Duerstock and Kaden Mauer all made the top 10 in their respective ratings.
South Dearborn placed 17th. Eli Bishop was the Knights' leading scorer with 288 points. He placed 6th in the senior boys division and 8th out of 377 high school boys. Shanna Tschaenn scored 278 points which was good for 12th place in the senior girls. Maykayla Hiltenbeitel, Jackson Chipman and Jon McClanahan rounded out South Dearborn's top 5 scorers.
Batesville's second team placed 26th out of 35 teams, while South Ripley finished 34th in the secondary division.
See complete NASP tournament results.