How brands activate on boats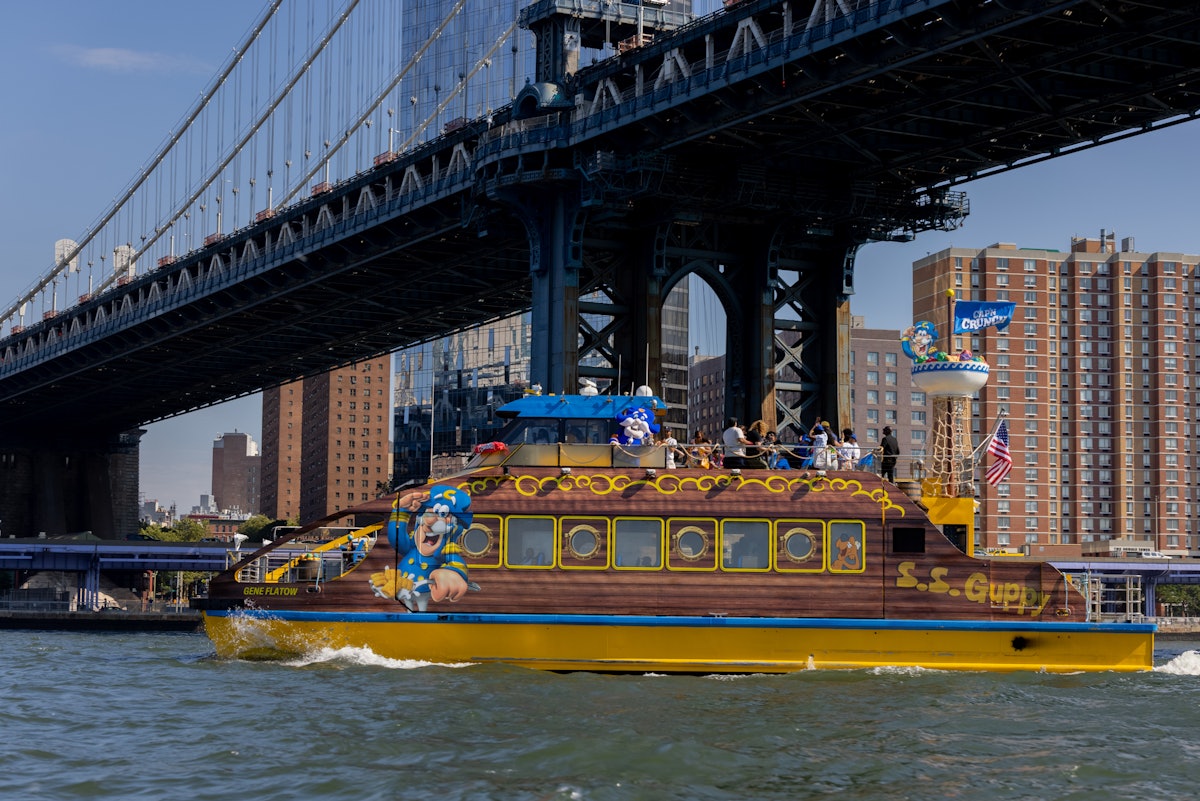 Does anything scream summer more than a day on a boat? Brands have been exploring this idea this season, with companies like Cap'n Crunch and CBS recently hosting unconventional ship-based activations that provided a unique and memorable experience for customers. Read on to see inside these, as well as other recent water-based activations, and keep scrolling to find out some tips for hosting your own boat event.
---
cereal brand Cap'n Crunch recently traveled the seas – or, well, the rivers – around New York City with a unique and branded ferry experience that took over from a New York Water Taxi. Developed in response to the growing number of people returning to the office, the "Cap'n's Commute" enlivened morning routines from August 9-11 making stops at five commuter ferry ports along the East River and the hudson river.
The design of the ferry was inspired by Cap'n Crunch's Guppy SS– the ship the cereal star calls home – and has been decked out with fun photo ops, a DJ, games and, of course, plenty of Cap'n Crunch merchandise. The brand worked with experiential agency Motive and manufacturing company Pink Sparrow.
"Pink Sparrow was commissioned to fabricate and install a variety of scenic elements, including a cereal bowl crow's nest, barrels of Crunch Berries, a DJ booth and a full 'Cap'n's Quarters' with a ship's wheel, anchor, sails and accessories to capture the perfect Instagram shot," explained Andrew McClainPink Sparrow's manufacturing manager, who noted that his team relied heavily on 3D printing to get the intricate details they needed in a short amount of time.
"To reinforce the feel of a Cap'n Crunch vessel, we did a complete resurfacing of the boat with signature blue and yellow features like portholes, netting and fencing," he added. "These elements helped create an immersive experience that transported New York City commuters to their desks in a cereal-filled paradise." The ferry featured a DJ, games, and a "Cap'n's Quarters" complete with rudder, anchor, sails, and props for photo ops.Photo: Courtesy of Pink Sparrow
"Our favorite moment of the event was when the 'Cap'n Crows Nest' made its grand entrance," McClain said. "The reaction from kids and adults (and our manufacturing team) was the same: complete awe. Hoisting an oversized cereal bowl to the top of a boat under sail was something we never had done before!"Photo: Courtesy of Pink Sparrow
In another fun and floaty activation, CBS continued its "Summer of Ghosts" campaign—a series of events throughout the season celebrating different characters from the hit series Ghosts-with a Nordic-themed lunch at sea in the Marina Del Rey neighborhood of Los Angeles on August 6. BMF agency.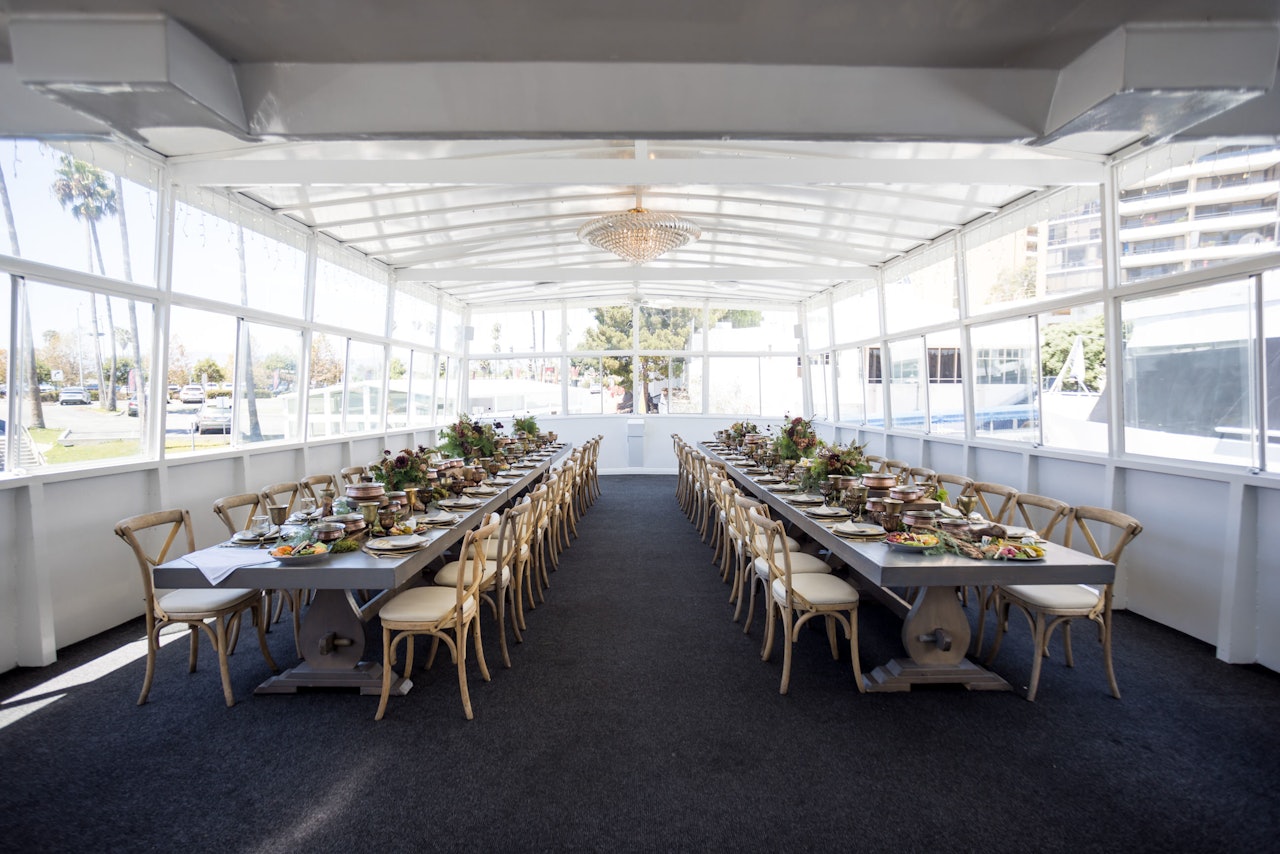 "In honor of the character of Thorfinn, a cod-loving Viking warrior, we wanted to pay homage to the Viking spirit by inviting CBS guests to experience a coveted and unique feast through a Viking Lunch at Sea," said Jacobson.Photo: Courtesy of BMF"We drew elements of Thorfinn's character throughout the experiential design and guest journey, an eclectic range of goblets and chalices from which guests could drink mead (an ancient Viking wine frequently referenced by the character), to Norse-dressed brand ambassadors, to an immersive photo shoot where guests could step into the story and pose with Viking props," said Kimberly JacobsonVP of Strategy at BMF.
Guests could also get personalized rune readings from an intuitive practitioner on site and custom-engraved Viking-inspired wooden keychains.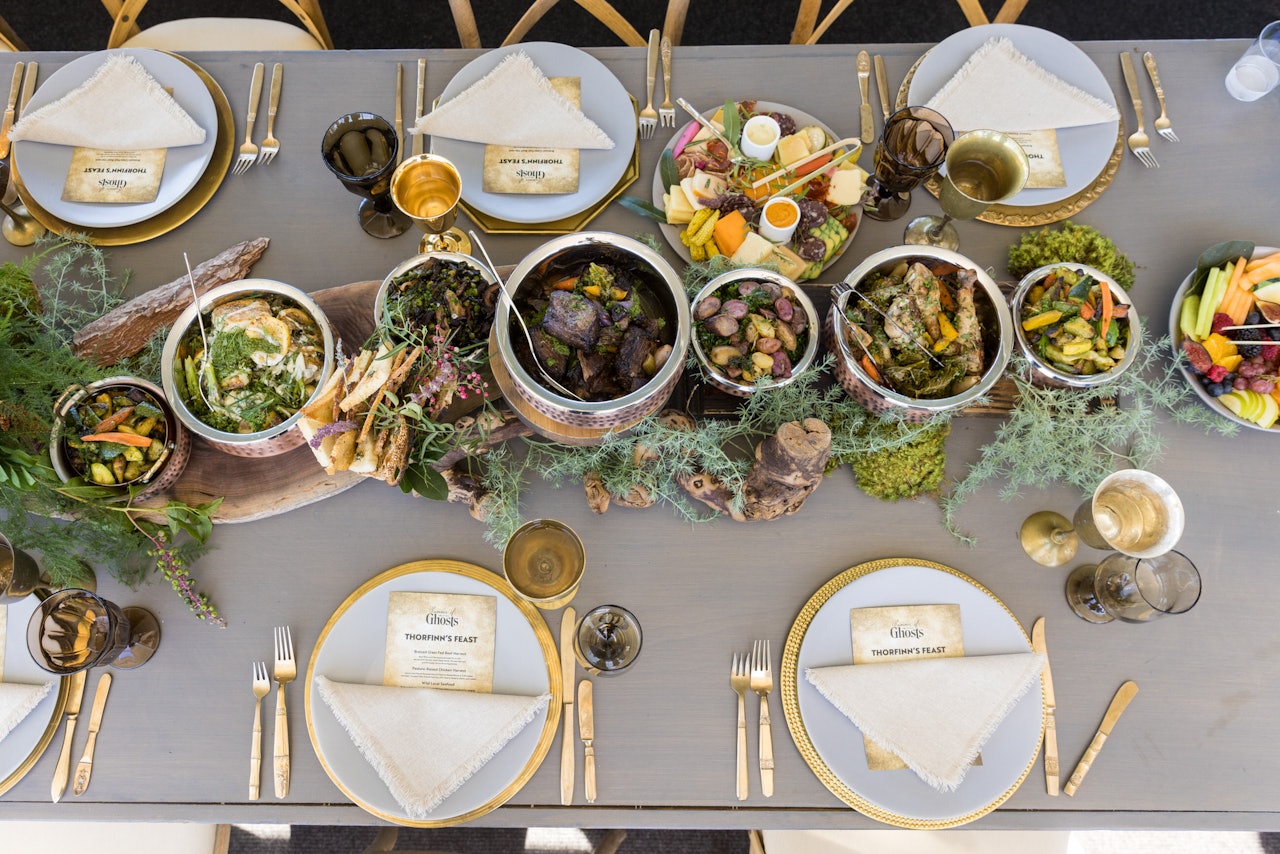 "Once on board, guests gathered around a transformed tablescape to connect over a host of rustic offerings of Nordic-inspired flavors," she explained.Photo: Courtesy of BMF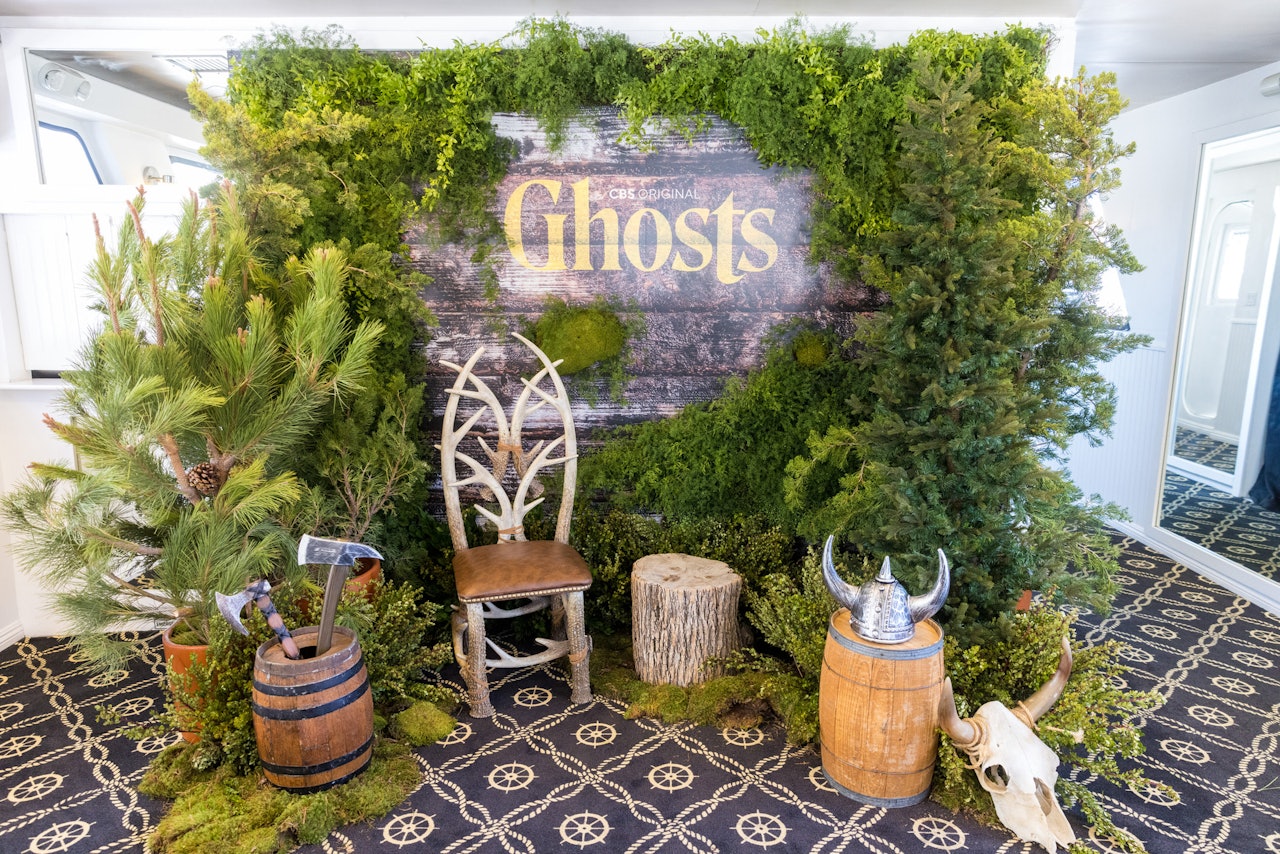 Guests could also pose with Viking accessories, receive personalized rune readings from an intuitive practitioner on site, and get custom-engraved Viking-inspired wooden keychains.Photo: Courtesy of BMF
We asked McClain and Jacobson to share five tips for activating on a boat, yacht or other vessel.
1. Understand security requirements early on.
Working on a moving ferry was a unique challenge, said McClain, noting that safety requirements meant the team had to be very careful – and creative – when it came to knowing where equipment and props were. placed and how they were secured.
"The biggest set of challenges with this project revolved around the activity of the boat and the extent to which the boat's operations are focused on the safety of passengers and crew," he explained. "When combined, they create a fairly dense set of conditions that you don't encounter in a typical event location or vehicle modification. Boats aren't like your typical white box space where there are flexibility with connection points, rigging and securing fabricated items.
McClain's advice? "Concentrate your efforts on maximizing impact in areas of the vessel that would not interfere with boat safety operations."
Along the same lines, Jacobson added that understanding the vessel's capacity is key. "Many ships have strict capacity restrictions due to IMO (International Maritime Organization) guidelines, and these restrictions vary whether the ship is in port or at sea," she noted.
2. Consider how guests will be able to move around the boat.
Another important consideration? The vast majority of furniture, seating and storage units are all fixed in place and cannot be removed, reducing the space to be activated, Jacobson Explain.
"When designing your event, it's important to first consider whether the ship will go to sea as part of the guest experience or be berthed in port," she added. "If fixed, temporary building elements are much easier to bring in and install to normal land standards. If you are going to sea, considerations will need to be made to ensure that any additional items would remain safe in the event of harsh conditions.
Thinking about how guests moved around the boat is also critical from a manufacturing perspective, McClain noted. "If the event activity taking place on the boat is different from its intended use, the design and layout of the event should consider how the custom rooms interact with it," he said. "Other than that, let your creativity run wild when it comes to designing around these new interactions."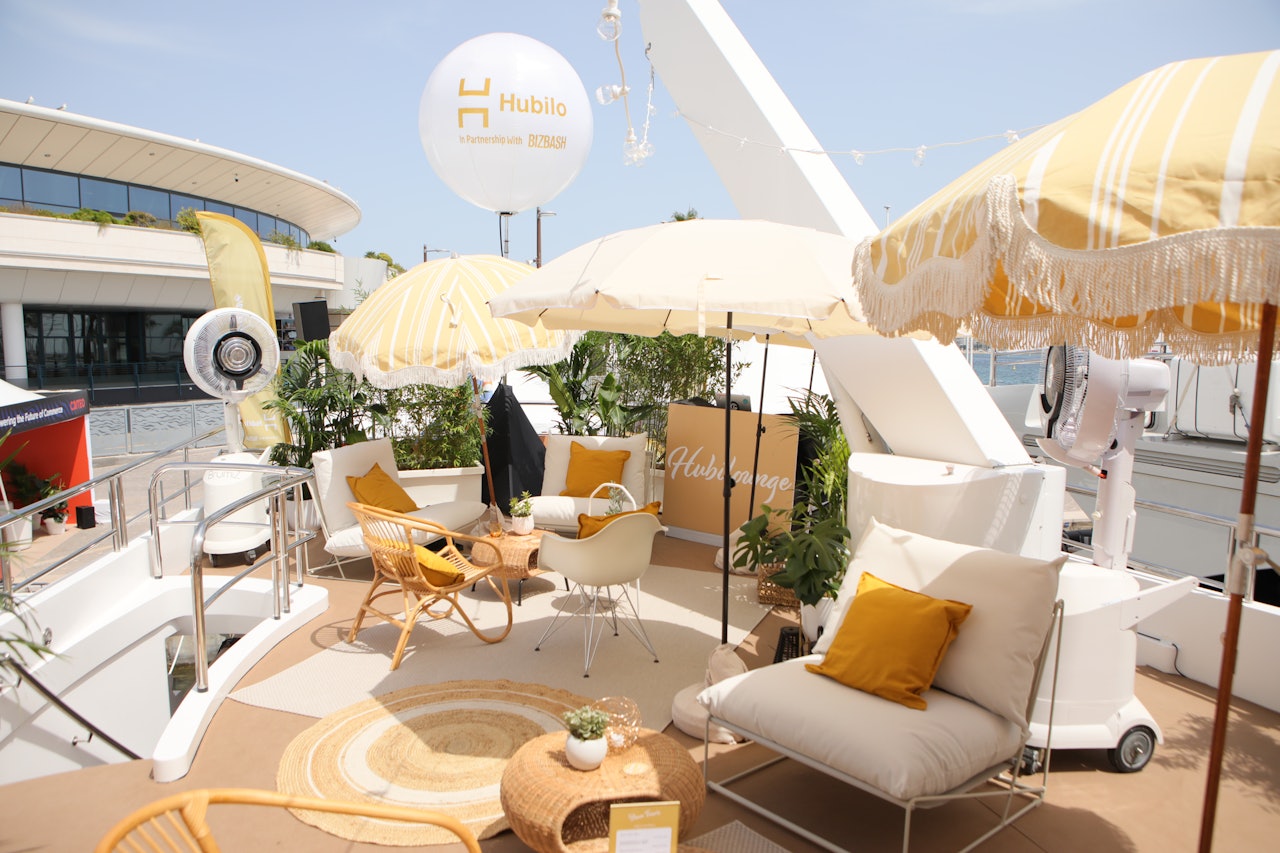 The BMF team also produced BizBash's own yacht-based activation, a partnership with Hubilo at the Cannes Lions in June. "For any yacht activation, it is important to consider all external elements such as wind which can disrupt styling elements, or heat which requires moments of shade and cooling," the team explained. at the time, adding that it was also important to think about constraints such as whether guests will be required to remove their shoes. See more: Inside BizBash and the activation of Hubilo's yachts at Cannes LionsPhoto: overflow creation
3. Get creative with your exterior branding.
"Yachts can be huge in size—[and] while their exteriors provide ample empty space for branding, to make an impact you need to be intentional with placement while still being cost effective," Jacobson said.
She added: "Vessels are painted with marine safe paint to protect them from salt, which often prohibits sticking anything to the exterior paint. " A solution ? "Focus on other existing branding opportunities, such as flags and, where appropriate, sails.
4. Give yourself extra time when possible and do your homework.
McClain also advised that you prepare for "additional logistics and planning required, whether it's the facility that can provide the vessel and other resources needed to see through all of the production preparation and construction facility, or just the different sets of regulations around where and when the boat can be moored and for what purpose," he said.
5. Make sure your catering team is fully prepared on the space available to them.
"Due to the nature of their normal onboard charter service, many yachts have impressive galley areas for preparing food. However, refrigeration is often limited and reserved for the next charter and the crew," Jacobson pointed out. "Catering crews brought on board must work smart and prepare in advance for additional supply, and predetermine a style of catering service that can be managed in a smaller footprint."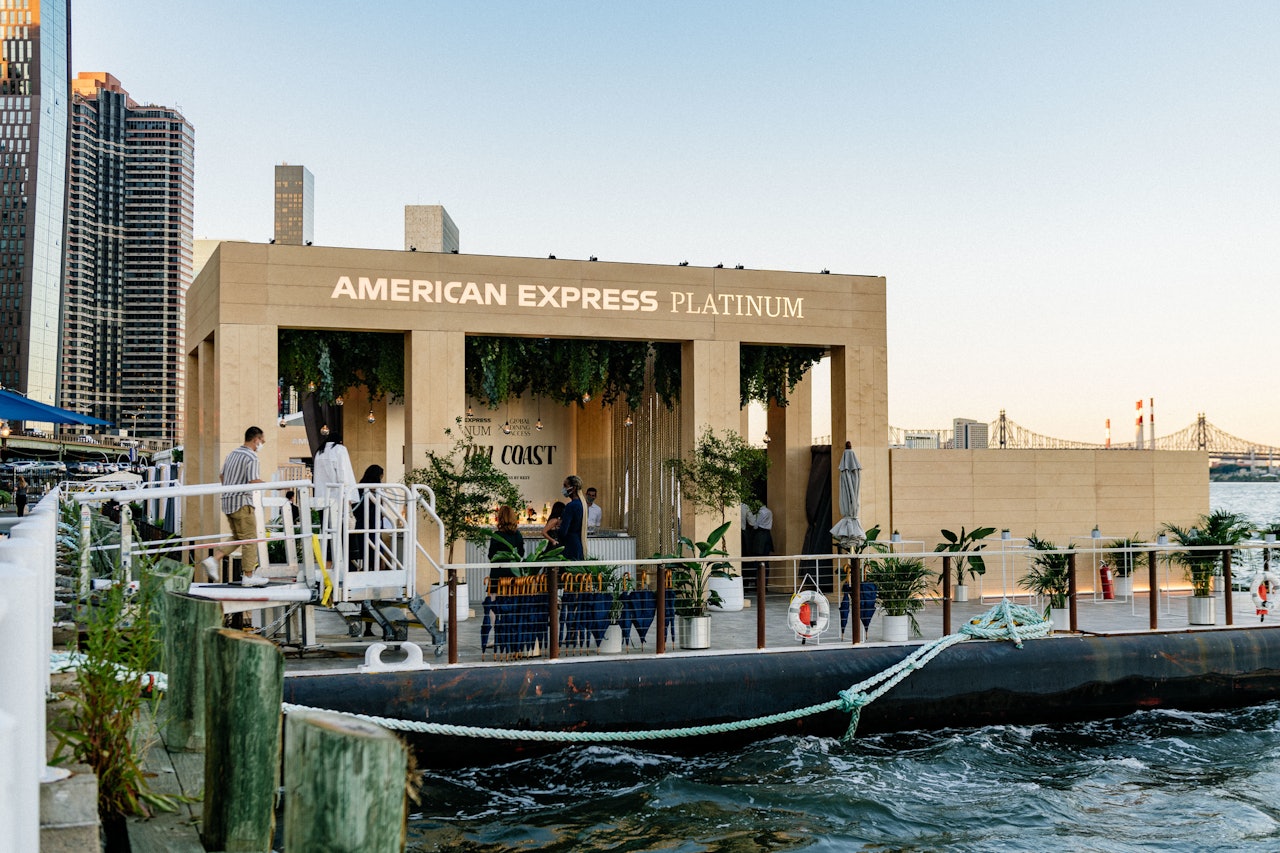 Want more floating inspo to go? In September 2021, Resy and Amex partnered to host Platinum Coast, a 225-foot-long floating pop-up restaurant on New York's East River. Shiraz Creative outfitted the houseboat with a contemporary design, lush greenery, live DJ after dark, and a number of cabanas that can accommodate up to six people.Photo: Teddy Wolff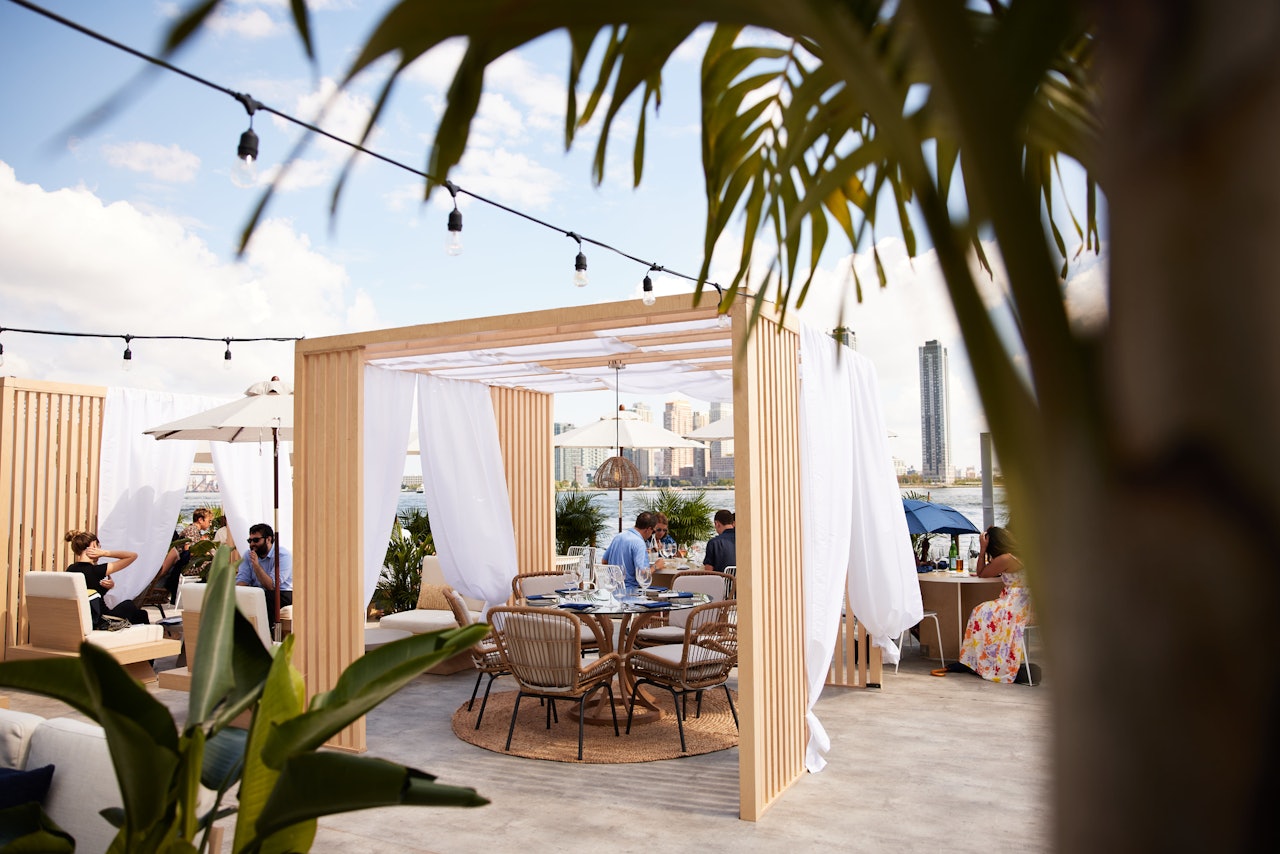 A total of 20 different menus were served at Platinum Coast, with dishes inspired by the chefs' restaurants, hometowns, and more. See more: How Resy brought restaurant events back to life during the pandemicPhoto: Sam Ortiz