New Boats, Upcoming Programs at Onset Bay Center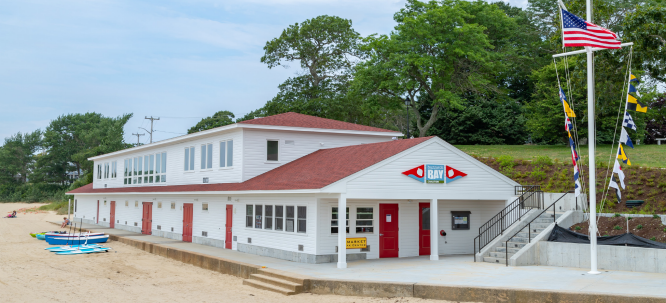 A new sailboat, windsurfing lessons and a slate of new programs are all in the works for the Onset Bay Center this year, led by the Buzzard Bay Coalition's Stuart Downie in his new role as Vice President of Exploration of outdoors.
Downie said he and staff at the center are working to make the renovated Onset Beach bathhouse a year-round destination. Community programs like yoga overlooking the bay and painting classes are planned.
On May 14, an Onset Bay Center Community Day is scheduled from 10 a.m. to 4 p.m., which will include artwork hanging in the McFadden Center, sailing excursions with staff, a self-guided history walk and art activities , among other festivities.
New programs, boat on the horizon
During the April school holidays, the center will run a week-long Bay Explorers program for 8-12 year olds. Although the weather will be cold, Downie said the kids will be on the water and exploring outside and likely in kayaks.
During the summer, the Bay Explorers programs will return, as well as sailing for young people and teenagers and many courses for families and adults. Sailing and windsurfing lessons for adults are also planned.
Downie is expanding the center fleet, he said. A concert drascombe – a traditionally rigged sailing vessel designed for training in the Royal Navy – is currently being shipped from England.
"It's a really traditional looking sailboat, but what's great is that it can take 12 people at once in a very stable and safe boat," said Downie.
He noted that in addition to its stability, the boat can be pulled on the beach and has an outboard motor that can be used when needed, all qualities that make it an excellent initiation sailboat. The stability of the boat also makes it particularly well suited for use by children and people with varying needs.
In addition to the traditional drascombe concert, Downie will bring a new water sport to the centre: windsurfing. Sailboards are surfboards fitted with a sail for a sport that resembles a combination of skateboarding and sailing, Downie said.
Also on the horizon are new and improved after-school programs for high school students. Boat building will return with improved equipment purchased by the center, and this spring students will convert one of the skiffs built in the fall into a sailboat, he said. The course will also include more on-water training for builders.
Downie also plans to start an after-school sailing course, with the goal of eventually building a competitive high school sailing team.
Experience in external programs
Downie, originally from the UK, has worked in outdoor education since he started teaching sailing aged 14. He has worked at various adventure centers in the UK, teaching children about outdoor skills and the environment.
At 24, he was recruited to lead a student citizenship program in Dubai. There he led a program that combined life skills with adventures like sailing and hiking – and met his future wife, who was originally from Fairhaven, MA.
The couple moved to the United States about six years ago, and since then Downie has worked as a consultant for summer camps, helped develop shoreline programs and worked with major corporations to create programs for team building, social responsibility and volunteerism.
He became involved with the center as a volunteer and helped former director Kat Garofoli develop the center's waterfront programming.
While overseeing the center, Downie's role as Vice President of Outdoor Exploration for the Buzzards Bay Coalition is extensive. He is also responsible for Bay Adventure programs held in communities around Buzzards Bay and the Experiential Learning division, which hopes to provide students in the bay with learning opportunities outside of the classroom.
All of the coalition's programs, Downie said, are in part about helping people love the bay and become its stewards.
Downie said he was happy to hear people's ideas about programs that could be held at the center or elsewhere in the bay.
"We really try to be part of the community," Downie said.
CYE, a youth empowerment and education program led by Jowaun Gamble, uses the space every two weeks for workshops. Gamble also received a free desk to use at the center.
Downie also said he plans to rent out the center for occasional use of space for smaller events such as baby showers, with all proceeds going to fund scholarships and low-cost programs at the center.