Trains, Boats and Cowboys: Museum's New Exhibit Features Vintage 'Grandpa' Toys

Did you know that the original model trains were real steam locomotives?
According to Mike McVey, who recently loaned a few pieces from his collection for an exhibit at the Freestone County Historical Museum, these model trains featured a hearth and a boiler with water.
The steam generated is what made the miniature locomotives move.
Although originally marketed as children's toys in the early 1900s, the design presented hazards with fire and boiling water.
McVey inherited several vintage model trains and toys from his "grandfather", Mike Wade, an avid collector who died last November.
"He had one of the largest collections in the state of Texas," McVey said. "Every time we visited Grandpa, we ran trains."
McVey's grandfather also taught him how to repair and maintain mechanical antiques.
"I've restored several," he says. "The wiring in these things is very simple, and it's something the average person can do."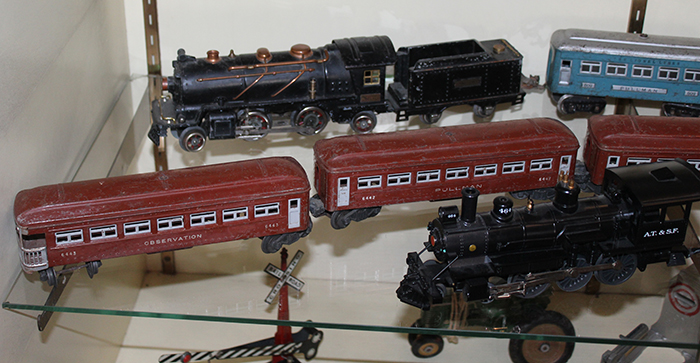 McVey explained that a little cleaning and lube to help the wheels and joints move is often all it takes to get older model trains working again. Then, "find a clean track, find a transformer that works, and nine times out of ten they start right away," he said.
At least that's the case for models made before the 1960s. "After the '50s, most manufacturers started going plastic," McVey said.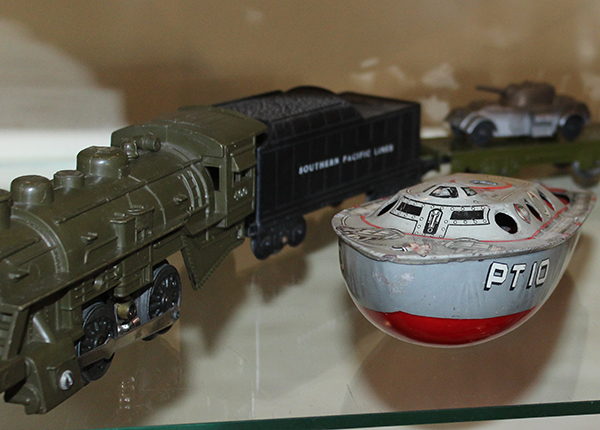 Unfortunately, heat can affect plastic parts and water damage can be more of a problem with newer models.
This exhibit includes model trains made by the Lionel company, ranging from the 1900s to the 1960s.
Also featured in the exhibition:
–cast iron pushing trains from the early 1900s,
– Early 1900's "Cowboy" figurine set by JoHillCo
–1936 Lionel passenger train (which went around his grandfather's Christmas tree),
–1940s Putt Putt boat powered by a candle,
-Marx army train from the 1960s,
According to the museum's curator, Patricia Pratt, this exhibition will be presented over the next few months.
McVey is happy that others can see and enjoy some of his grandfather's legacy.
"It was hard to lose him," he said. "I would return every train, just to have five minutes with him again."
The Freestone County Historical Museum is located at 302 East Main Street in Fairfield. They are open Wednesdays, Fridays and Saturdays from 10 a.m. to 5 p.m.
Admission is $5 for adults. Children 12 and under can visit for free.
(Photos by Karen Leidy)