Virginia Rowing | No. 9 Virginia advances three boats to semifinal A/B at NCAA championships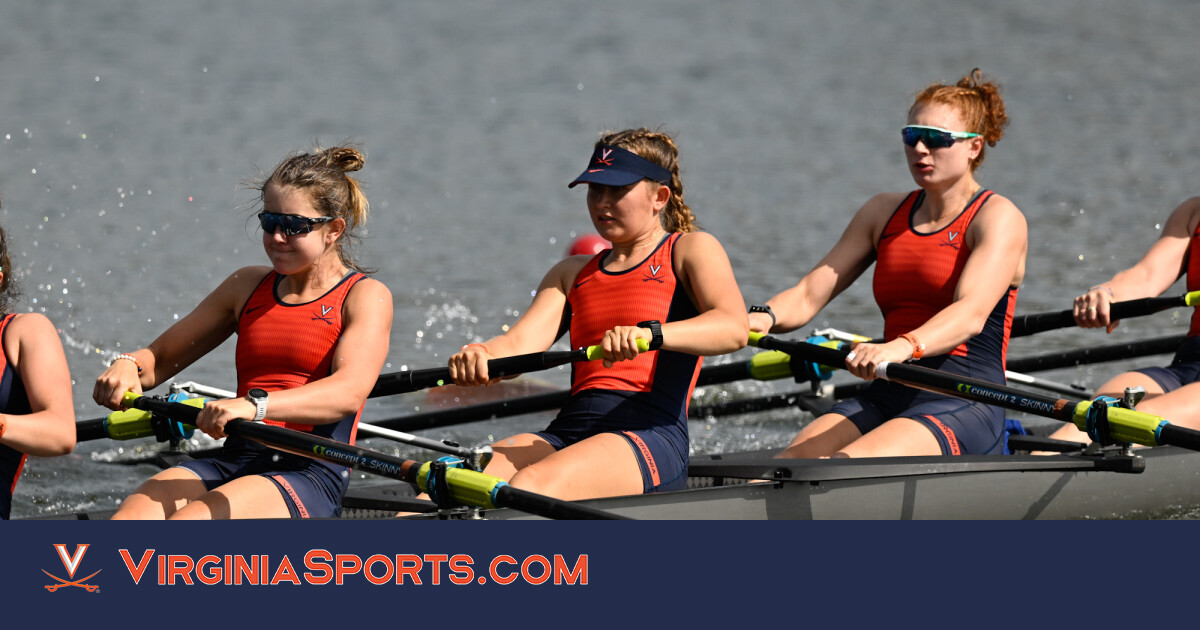 SARASOTA, Florida. –The No. 9 Virginia advanced all three boats to the NCAA Rowing Championships A/B Semifinals on Friday, May 28 at Nathan Benderson Park in Sarasota, Fla.
The Cavaliers' Second Varsity Eight placed second in Round 3 this morning to qualify, while the Varsity Eight placed second and the Varsity Four first in their respective Friday afternoon drafts.
UVA's Second Varsity Eight put in an outstanding performance in round three, finishing second behind Washington (6:14.647). The Cavaliers trailed Pennsylvania after the first 1,000 yards but rallied in the next 500 yards and held off the Quakers 6:19.109-6:19.212.
The Cavaliers' Varsity Eight rallied Oregon State to place second in one of the drafts. UVA trailed the Beavers after 1,500 yards but used a fearless sprint in the final 500 yards to earn a spot in the A/B semis.
UVA led from start to finish to win its Varsity Four draft, edging second-placed USC 7:05.680-7:11.352,
"Really tough races today to get all three boats through to semi-finals A/B," said head coach Kevin Sauer. "We will need even more tomorrow."
In other Friday morning Heat action, UVA's Varsity Eight placed fourth behind Brown 6:13.306-6:26.313. SMU placed third, followed by Virginia, Northeast and Rhode Island. The Cavaliers' Varsity Four finished third behind Stanford. The Cardinal won the race at 6:54.374 followed by Michigan, Virginia, Rutgers and the Northeast.
NCAA Championship action continues Saturday with the semifinals beginning at 8:12 a.m. ET. UVA's Varsity Eight will compete in round two of Semi-Final A/B at 8:48 a.m., followed by the second Varsity Eight in round two at 9:36 a.m. and the Varsity Four in round one at 10:12 a.m. Live video is available at NCAA.com.
Friday morning results
Varsity Eight Heat Four
1. Brown, 6:13.306, 2. Yale, 6:15.202, 3. SMU, 6:18.181, 4. Virginia, 6:26.313, 5. Northeastern, 6:40.316, 6. Rhode Island, 7:00.823
Second university eight inning three
1. Washington, 6:14.647, 2. Virginia, 6:19.109, 3. Pennsylvania, 6:19.212, 4. Duke, 6:35.165, 5. Boston University, 6:49.485, 6. Northeast, 6: 55,000
Varsity Four Heat Two
1. Stanford, 6:54.374, 2. Michigan 6:59.627, 3. Virginia, 7:04.851, 4. Rutgers, 7:07.035, 5, Northeast, 7:42.004
Friday afternoon draft results
Varsity Eight Heat One
1. Pennsylvania, 6:17.591, 2. Virginia, 6:19.007, 3. Oregon State, 6:19.815, 4. USC, 6:25.095, 5. Duke, 6:27.043, 6. Northeast, 6:35.831, 7 Jacksonville, 6:48.715
Varsity Four Heat One
1. Virginia, 7:05.680, 2. USC, 7:11.352, 3. State of Oregon, 7:12.626, 4. Pennsylvania, 7:15.540, 5. Duke, 7:20.826, 6. Rhode Island, 7 :35.714, 7. Jacksonville, 7:45.684
Virginia Compositions
eighth university: Helmsman ViVi Van Ingen, Coup: Kate Kelly, 7: Leia Till, 6: Lauren Benedict, 5: Sonja Schlosser, 4: Nicola Lawless, 3: Alli Terblanche, 2: Kelsey Gems, Bow: Eva Frohnhofer
Second University Eight: Helmsman Janet Conklin, Blow: Addison Luce, 7: Meagan Goldsmith, 6: Lily Jarrett, 5: Helene Dimitrijev, 4: Lauren Orr, 3: Cameron Bentley, 2: Tahne Badenhorst, Bow: Larkin Brown
University four: Helmsman Nora Grabcheski, Shot: Hailey Barnett, 3: Jenna Hajji, 2: Kate McGee, Bow: Sophia Coppola