Young GulfShore 24 Review | Young Boats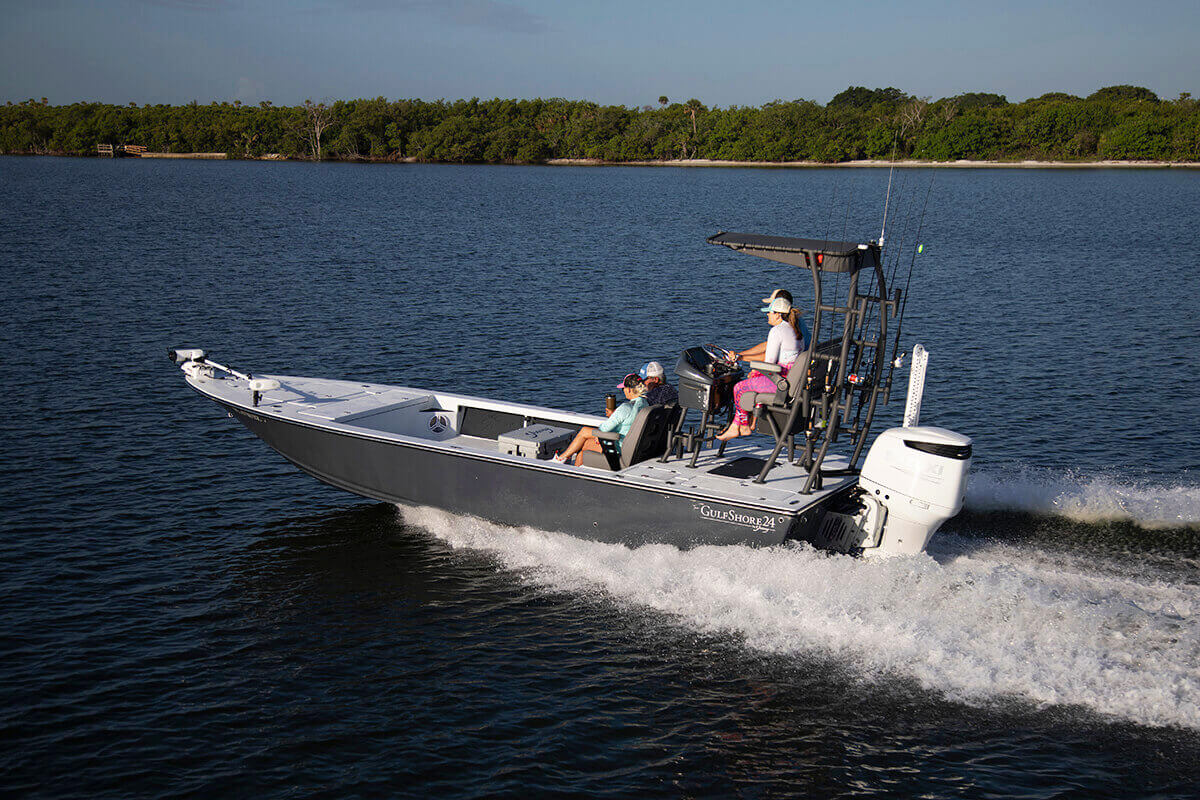 March 10, 2022
By George LaBonte
Spend some time fishing the mid-west coast of Florida and you'll likely notice a recurring theme in the design of prime coastal fishing guides. The design, featuring a raised section fore and aft with a recessed cockpit used for passenger seating, was popularized by Young Boats of Inglis.
The concept, which was introduced in their GulfShore line, has become the benchmark for guides in this part of Florida and for good reason. Young Boats places the guide and control of all boat systems at the rear of the boat in front of the engine. It's a brilliant layout that allows a guide to oversee all activity, spot fish and control a trolling motor and set anchors from an elevated perch. Seats for traveling between spots are just forward and can be configured in one or two rows for up to four passengers. Adding adequate seating for multiple passengers in front of the driver who can easily communicate with his group below is also a good idea. The remaining bow section is an incredibly spacious casting area so everyone can share the fishing space. Utilizing most of the forward deck space for the fishing room ensures plenty of room to maneuver for everyone.
Plenty of space for compartments is found below deck and a pair of livewells of 40 and 20 gallons respectively are standard equipment. There are still plenty of opportunities to utilize the remaining space between dry storage and insulated fish holds. The space below the raised decks can be configured to meet individual needs. One of the many benefits of having a custom boat built is your ability to end up with a boat that perfectly suits your style.
While GulfShore boats were originally designed as inshore platforms, as the models increase in size they are much more capable of performing both inshore and offshore dual duty. The GulfShore 24 proved to perform very well both inshore and offshore at Stuart where we tested it. The fact that professionals who spend every hour of their working day on a boat line up to build one is a testament to the quality and efficiency of this model.
Length: 24′ 1″
Width: 8′ 6″
Draft: 11″
Dead rise: 14 degrees
Weight: 1650 (without power supply)
Max HP: 350
Fuel: 60 gallons
MSRP: $93,700 (base price with Suzuki 300)